The flooring in a retail shop is one of the most important aspects of the décor. It is one of the first things that customers see when they enter the store, and it can set the tone for the entire shopping experience. So, which is the right flooring for your retail business?
Points to consider when choosing a new floor for your retail business
There are several types of flooring options for your retail business. Before choosing which one to go with, it's essential to research and understand the advantages and disadvantages of each type. It's also important to know your needs as a potential customer and shop owner so you can determine the best flooring option for your store.
Some factors you may want to consider when choosing flooring for your retail business include:
The climate or environment in which your store is located
The traffic or amount of foot traffic your store receives
The type of products you sell
The budget you have available for flooring installation
Whether you want a traditional or modern look for your store
Types of flooring available for retail businesses
There are many types of flooring options to choose from, but it's important to do your research before deciding. Each kind of flooring has advantages and disadvantages, so you need to consider your needs as a customer and shop owner.
Resin
Epoxy flooring is a type of resin flooring made up of two components: a resin and a hardener. When the two parts are mixed, they form a hard, durable surface that is resistant to chemicals, scratches, and staining.
Resin flooring is the perfect option for retail businesses because it is durable, easy to clean, and comes in various colours and styles. It is also non-slip, which makes it safe for customers and employees. Additionally, resin flooring is affordable and considered a "green" flooring option because it uses minimal materials and lasts considerably longer than other flooring options.
Advantages
Durable and can last for many years with proper care
Little to no maintenance is needed during its lifetime
Easy to clean
Available in various colours, textures and finishes to suit every environment
Resistant to scratches, scuff marks and heavy impacts
Non-porous surface is resistant to water and chemical spills
Non-toxic and safe for both people and animals
Anti-static and will not attract dirt or dust
Anti-slip coatings can be added for safety
Disadvantages
It can be expensive to install initially, but longevity and low maintenance costs offset this
Could take up to 1 week to fully cure and be ready to use
Slippery when wet if an anti-slip coating is not installed
May fade or discolour over time without an adequate sealing coat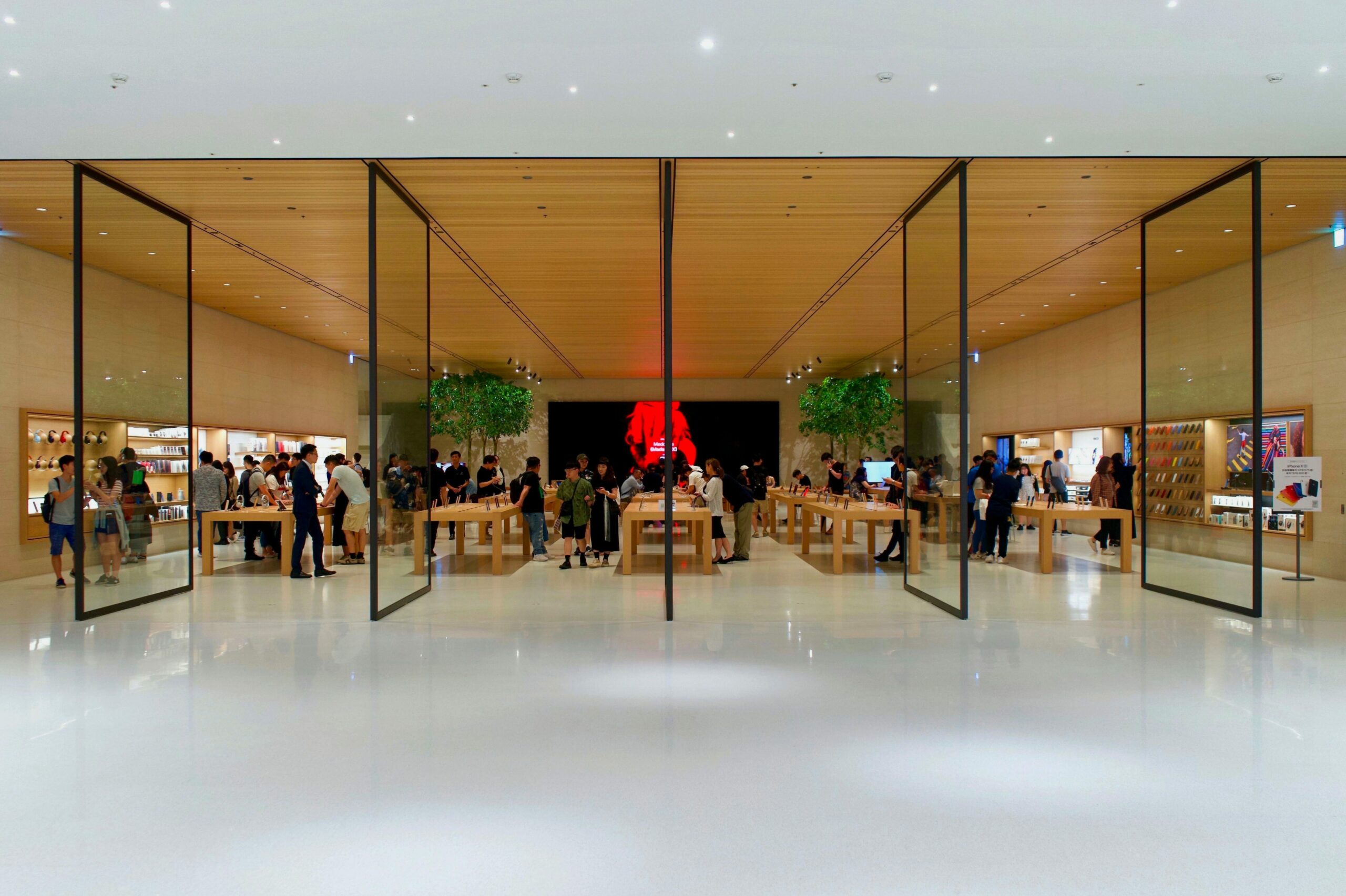 Carpet
Carpet is probably the first option you think of when considering flooring. It is soft and comfortable underfoot, which can be appealing to customers, and it comes in a variety of colours and textures to match the décor of your store. However, carpets can be challenging to clean and maintain, and they may not be suitable for businesses that receive a lot of traffic.
Advantages
Easy to take care of
Looks nice and soft
Feels great under your feet
Adds warmth and cosiness to the room
It can help absorb sound in certain circumstances
Disadvantages
Hard to keep clean as it often collects dirt and dust
Difficult to get rid of stains
Will quickly wear down and need replacing in a heavy traffic shop
Laminate
Laminate flooring is a popular choice for retail businesses because it is affordable, relatively durable, and easy to install. It comprises of several layers of materials, including a wear layer that protects the floor from stains. In addition, laminate flooring is available in various colours and styles, so you can find one that will match the look of your business.
Advantages
Easy to clean
Affordable compared to other types of flooring
Easy to install and doesn't require any special tools or skills
It comes in a wide range of colours and styles
Disadvantages
Laminate can be easily scratched or damaged
May not be suited to high traffic areas
It can be challenging to repair if damaged
Limited water resistance
Does not absorb sound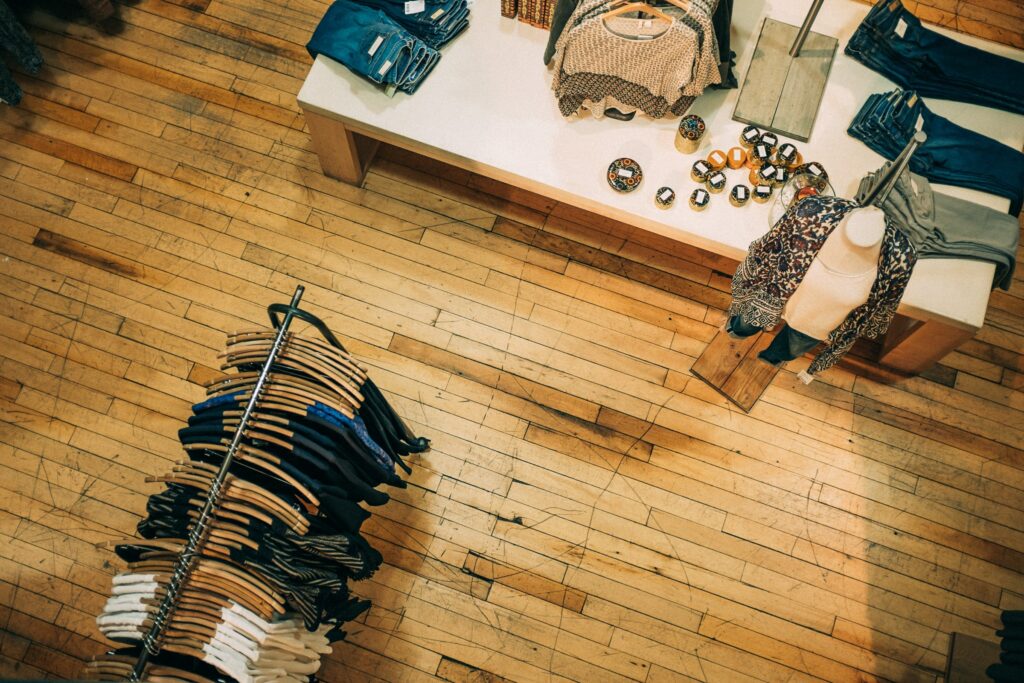 Tiles
Tiles are a popular flooring choice for retail businesses because they are durable and easy to clean. They come in various colours and styles, so you can find the perfect one to match your business's aesthetic. Additionally, tiles are relatively affordable, making them a budget-friendly option.
Advantages
Durable and can withstand heavy traffic
Easy to clean and maintain
Comes in a variety of colours, styles, and textures
Relatively affordable flooring option
Considered a "green" flooring option because it is made from recycled materials
Disadvantages
Can be slippery, especially when wet
Difficult and expensive to repair
Not be suitable for businesses with a lot of foot traffic, as it can become worn down over time
Grout between tiles can become stained and dirty over time
Cold and hard surface
Grout can down and lead to the accumulation of bacteria and grime
Retailers have many options to choose from when it comes to flooring for their store. There are pros and cons of each type, from resin, carpet, laminate, and tiles, that must be considered before deciding what is best for your business. If you're looking at installing new retail floors in the next few months or years, we recommend considering epoxy as a "green" flooring option. Keep in mind that while this might seem like an expensive upfront cost, as long as you install them correctly (and seal them every once in a while), these durable floors will outlast any other option available. To ensure you're making the best decision for your needs, make sure to research all of the benefits and possible drawbacks of each flooring type.
Please get in touch for further help and advice on choosing your retail flooring!